NEWSBISNIS.com – Permukaan Bumi adalah tempat bagi semua makhluk hidup tinggal. Terbentang luas di daratan bumi, banyak sekali hal-hal yang dilakukan makhluk bernyawa di atasnya. Meskipun diciptakan Tuhan dengan sangat indah, tetapi tidak semua permukaan bumi nampak rata. Pasti ada beberapa tempat di Bumi yang membuat pemandangan menjadi berbeda.
Peristiwa seperti ledakan, meteor, bahkan umat manusia ini dapat membuat permukaan Bumi nampak tidak indah lagi. Contohnya seperti lubang. Banyak sekali lubang-lubang yang ada di muka Bumi ini. Dari lubang yang biasa-biasa saja sampai lubang yang sangat berbahaya serta misterius.
Tentu, semua lubang itu ada yang terbentuk secara alami, ada juga karena ulah manusia. Walaupun ada beberapa lubang yang berbahaya, namun tidak mengecilkan niat wisatawan untuk berwisata ke tempat lubang tersebut. Hmm, lubang-lubangnya seperti apa aja sih? Berikut 7 lubang misterius dan mengerikan di muka Bumi.
1. Giant Blue Hole – Belize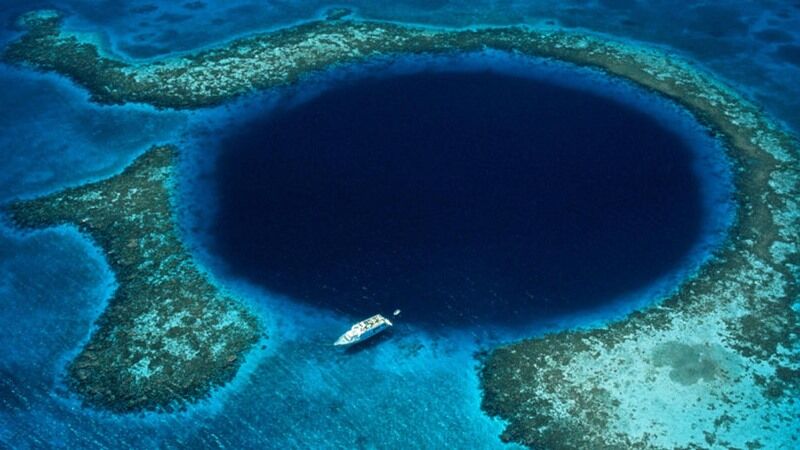 Giant Blue Hole adalah lubang besar yang terletak di negara di pesisir timur Amerika Tengah, Belize. Lubang ini berbentuk lingkaran sempurna dengan diameter lebih dari 300 meter dan mempunyai kedalaman hingga 124 meter di bawah permukaan laut. Giant Blue Hole terbentuk karena disebabkan oleh peristiwa glasial pada jaman es, yaitu pelelehan es yang sudah dimulai sejak jutaan tahun yang lalu hingga sekarang. Efeknya ialah erosi, perubahan sistem arus sungai, dan perubahan tingkat air menjadi lebih rendah.
2. The Door to Hell – Turkmenistan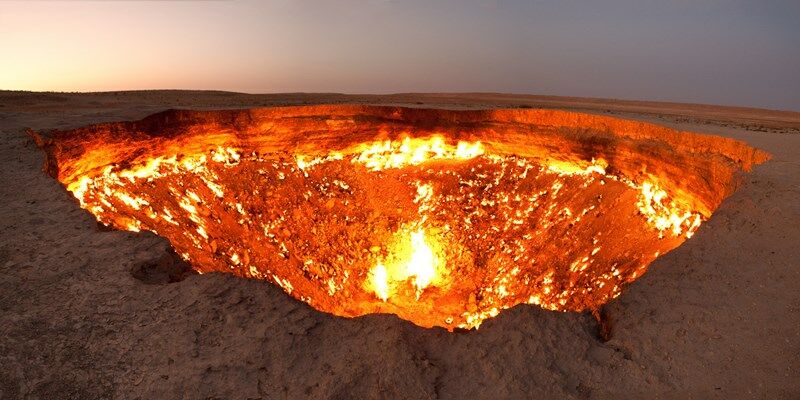 The Door to Hell adalah sebuah lubang yang berada di Derweze, Turkmekistan yang berisi api yang membara. Lubang ini bukanlah disebabkan oleh peristiwa alam, namun sengaja dibuat oleh ahli geologi pada tahun 1971 yang lalu untuk mencari gas alam. Namun, setelah gas alam ditemukan dalam jumlah besar, gas metana mulai naik ke atas atmosfer. Para ahli geologi dan penduduk setempat takut akan dampak dari gas tersebut, mereka pun memutuskan untuk menghilangkan gas tersebut dengan membakarnya, dan hasilnya lubang tersebut terbakar terus-menerus sampai sekarang.
3. Dean's Blue Hole – Bahama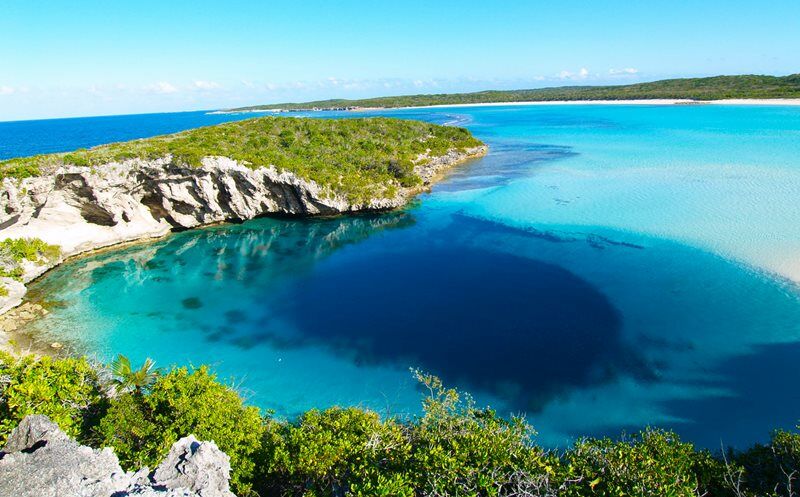 Jika di luar angkasa ada yang namanya Black Hole, di Bumi ada yang namanya Blue Hole. Dean's Blue Hole atau Blue Hole adalah sebuah lubang yang terbentuk secara alami yang berada di pesisir pantai Long Island, Bahama. Lubang ini mempunyai kedalaman sekitar 202 meter menjadikannya sebagai lubang biru terdalam di dunia. Kenapa disebut lubang biru? Karena lubang ini terbentuk dari sinkhole atau lubang runtuhan yang terisi air sehingga warna air di atas lubang tersebut lebih biru dari warna air di sekitarnya.
4. Kimberley Mine – Afrika Selatan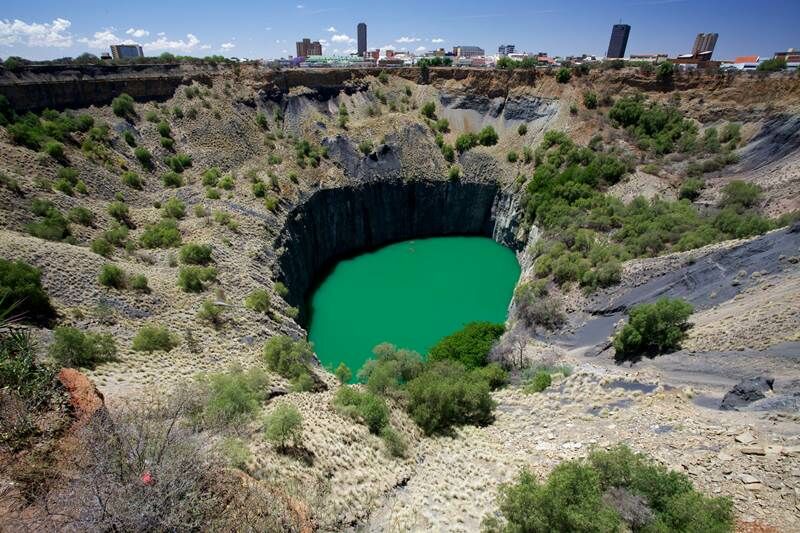 Kimberley Mine adalah lubang terbesar di dunia saat ini yang terletak di Afrika Selatan. Uniknya, lubang ini tidak terjadi karena keajaiban alam, melainkan ulah manusia itu sendiri.
Pada abad ke 19, sekitar 50.000 penambang mulai mencari berlian karena mereka melihat sebongkah berlian di daerah tersebut. Usaha mereka pun tak sia-sia. Mereka menemukan sekitar 2.720kg berlian di dalamnya. Walaupun pekerjaan tersebut meninggalkan lubang sebesar itu.
5. Jacob's Well – Amerika Serikat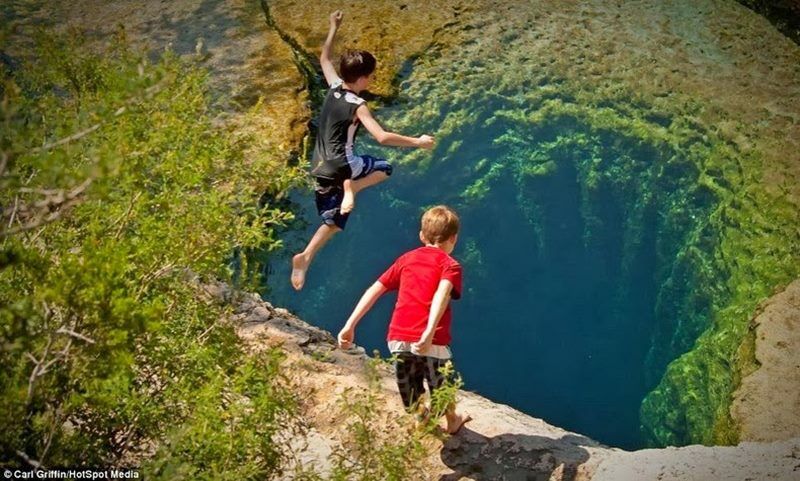 Jacob's Well adalah sebuah lubang alami yang berisi air yang terletak di Texas, Amerika Serikat. Lubang ini berdiameter 4 meter dan berkedalaman hingga 37 meter, dengan air yang cukup tenang. Dikabarkan bahwa lubang ini sangat berbahaya dan mematikan. Menurut laporan Oditty Central, kabarnya lubang yang juga sering disebutsumur ini telah merenggut 8 nyawa penyelam. Namun, bahaya yang mengintai Jacob's Well tidak cukup untuk menakuti para penyelam. Terbukti, banyak sekali penyelam yang berenang di sini untuk mencoba menjelajahi gua bawah air ini setiap tahunnya.
6. Glory Hole – Monticello Dam, California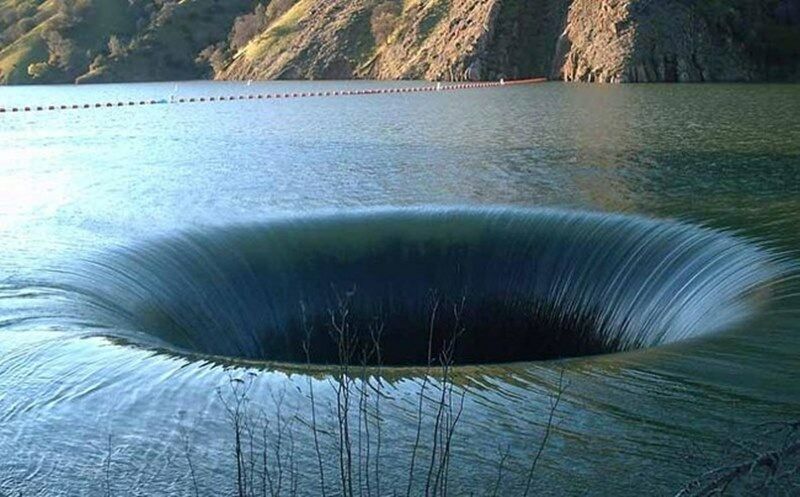 Lubang yang satu ini terletak di bendungan Monticello, California, salah satu bendungan terkenal di seluruh dunia. Glory Hole bukanlah lubang alami, namun dibuat dengan sengaja oleh manusia sebagai saluran air agar air danau tidak meluber keluar.
Cara kerja lubang ini adalah saat air di bendungan melebihi kapasitas, maka lubang ini akan berfungsi sebagai saluran pembuangan. Lubang ini mampu menguras air sebanyak lebih dari 20.000 meter kubik air per detik. Walau dibuat khusus untuk bendungan, namun jika melihatnya dari dekat cukup menakutkan bukan?
7. Guatemala Hole – Guatemala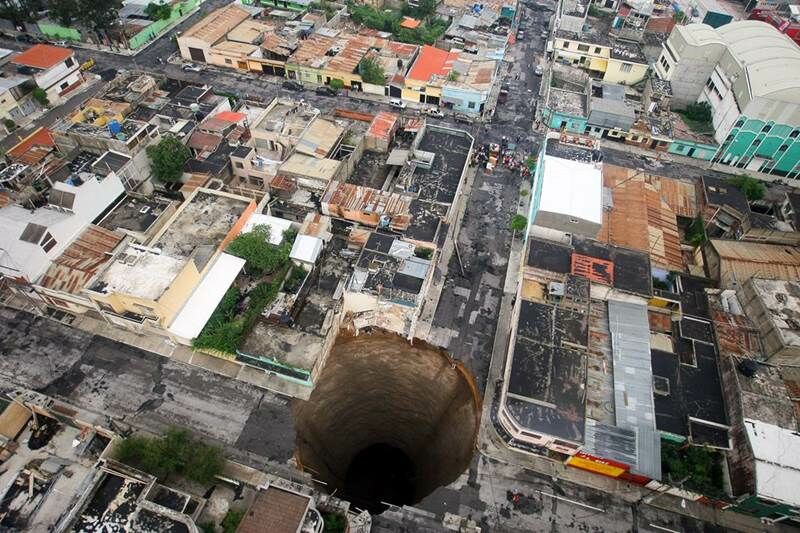 Lubang ini masih menjadi misteri besar bagi para ahli geologi. Lubang ini muncul pada tahun 2010 lalu, memiliki lebar 20 meter dan kedalaman mencapai lebih dari 30 meter. Entah apa yang aneh dengan tanah di Guatemala, sebab pada tahun 2007 lalu, lubang yang sama muncul hingga menewaskan 3 orang. Para ahli geologi berpendapat, bahwa terbentuknya lubang tersebut bukan karena sebuah patahan geologis, dan bukan pula disebabkan oleh gempa bumi.
Nah, itulah beberapa lubang alami dan buatan yang ada di Bumi ini. Sebagian besar memang terlihat indah namun jika dilihat dari sisi lain cukup menakutkan juga sih. Kalau kamu pernah pergi kesana, yuk sharepengalamanmu di kolom komentar ya.